The Emotions & Me! Group is a psychoeducational group for children (ages 2-5) and a caregiver.  Participate in this fun, interactive group and set a foundation for your children to develop the skills to share and cope with their emotions in healthy, age-appropriate ways.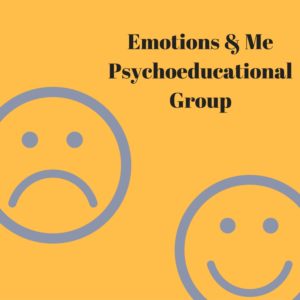 The Emotions & Me Group includes:
1 initial meeting with Sarah (45 minutes)
4 group meetings with 2-3 other families (45 minutes/group)
Individualized recommendations and referrals
The initial meeting includes an opportunity for Sarah to get to know your family and to discuss your family's goals for participating in the group.
Group sessions will include education and discussion about emotions, an activity to further explore emotions and an opportunity to learn and practice coping strategies.  Families will also be given "assignments" to take home to continue our discussions outside of group.
The cost to participate in Emotions & Me is $150 per family.   Up to two children between the ages of 2-5 may participate for the family rate.  Infants are welcome to attend with older siblings free of charge.  Payment is due at the initial meeting.
Space is limited.  A maximum of four families can register for the same group.   A minimum of two registered families is required to offer the group.   Feel free to invite other families to join you for the upcoming group.
Sarah has started a waiting list for this group and will offer the group when enough families are interested.   Please contact Sarah at sarah@sarahleitschuhcounseling.com or 952-457-2322 to express interest in this group.